Blog Post: May 3, 2023
Treemonisha Program Notes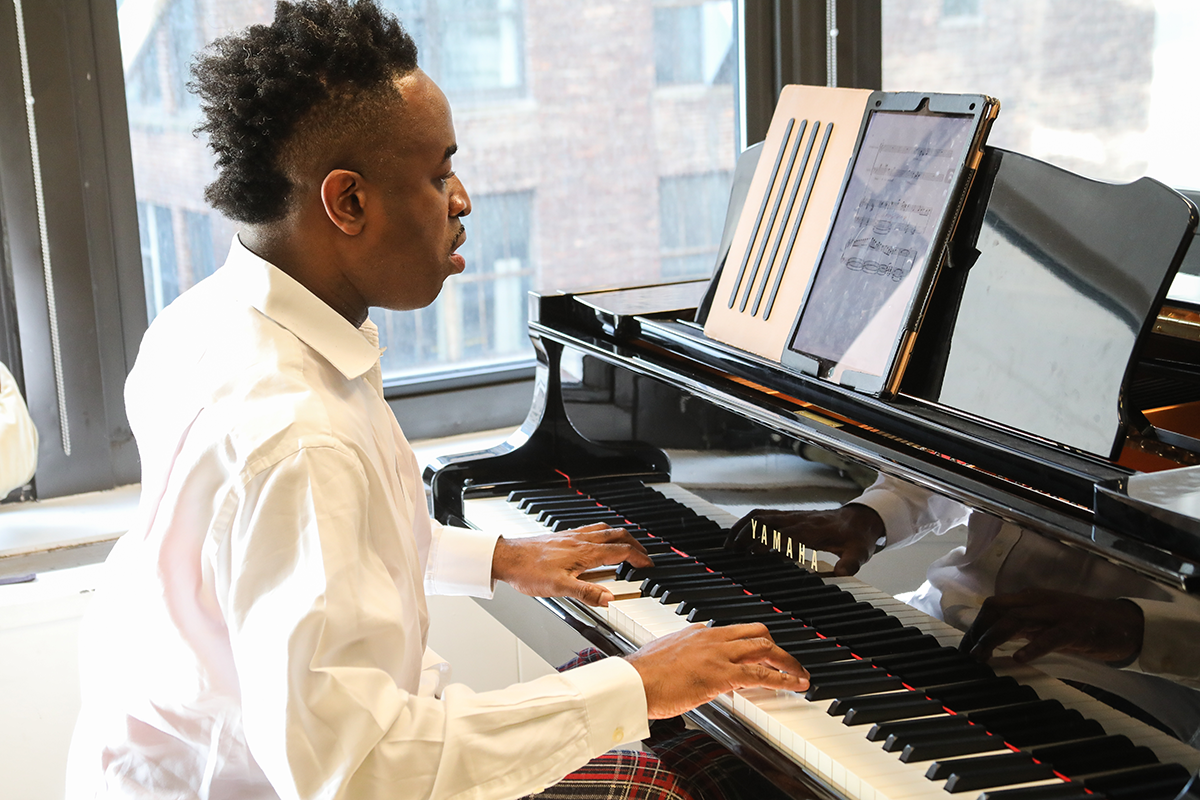 I remember it as if it was yesterday. I was a freshman at Howard University in my second semester, walking into the now Chadwick Boseman College of Fine Arts, when I was approached by a graduate student in her final semester before graduation. She walked up to me and proclaimed, "I have to give this to you because you will finish it. You will complete it." As a young, naïve student from Augusta, Georgia, I had no idea what the contents were inside the brown folder she gave me. A bit bewildered,I walked away and placed the folder on my bookshelf in my dorm room and didn't give much thought to it again until the end of the semester.
A few weeks later, I explored the Howard University library to check out as many opera videos as possible to watch in my leisure time. To my surprise, one of the videos featured Howard University's music department voice chair, the late Carmen Balthrop, who taught one of the vocal studios I frequented while accompanying her students under the careful supervision of the late Sylvia Olden Lee. I was so excited to see her on the cover of this opera that I immediately ran across the campus to her office to inquire about the video and the opera featuring her in the lead role.
That opera was Scott Joplin's Treemonisha from Gunther Schuller's Houston Grand Opera production. I immediately felt an even closer connection with Carmen Balthrop and began to dream more and more about having a career inclusive of opera. At the end of my freshman year, I decided to stay in Washington, D.C. for the summer. As I began packing up my belongings, I thought I'd finally look into the brown folder that the strange graduate student handed me a few months back; it was the piano/vocal score to Scott Joplin's opera, Treemonisha. Instantaneously, I knew I had a divine connection to the work. Over the years, I've tried to mount productions of Joplin's opera more than four times with several notable performing arts institutions, three in America and one in Europe, but each time it fell through.
The mere fact that I am finally seeing this calling, vision, and assignment come to fruition is fulfilling in quite an indescribable way. One of my final memories of my mentor, the late Jessye Norman, is her telling me, "Damien, you must champion the work of Scott Joplin. He was never given the honor he was due. Please promise me you'll finish and complete Treemonisha as you've started out to do." So here we are in a moment where time, destiny, and purpose meet: a new adaptation of Scott Joplin's opera Treemonisha.
A Note From The Librettist
Inspired by the evocative themes of Scott Joplin's original text, this new adaptation amplifies those ideas by introducing the composer's personal history into the plot. His musical odyssey, the years devoted to creating Treemonisha then striving to get the opera staged, provide a contextual backdrop as both Scott Joplin himself and his beloved wife, Freddie Alexander Joplin, emerge as characters.
The opera opens with "The Dawning," the couple's wedding celebration that was held at her parents' home in Little Rock, Arkansas in 1904. Full of ambition and high aspirations, they settled in Sedalia, Missouri where Joplin sat down to write a serious opera that would accomplish many things at once — an enduring testament of his mastery as a composer, a creative source of inspiration and uplift to the Black community, and a love letter to his wife. Though they lived in the era of "separate but equal" where the promise of full citizenship and protection under the law eluded most Black Americans, it was Freddie's progressive stance on socio-political issues and sense of cultural pride that helped Joplin craft his female protagonist.

Treemonisha, then, would become a representation of their shared philosophy of education as the ultimate key to freedom. Before completing his seminal work, Joplin's young bride fell ill. Stricken with pneumonia just weeks into their marriage, Freddie wouldn't live to hear the opera that she inspired. Two months after the wedding, Freddie Joplin passed away.
It is in this dichotomous moment of great accomplishment and unfathomable grief that this adaptation dramatizes Joplin as an artist so distraught that he "walks into" his own opera as we, the audience, enter the world of his imagination, the world of Treemonisha…where Joplin becomes Remus and the spirit of Freddie embodies the titular character.
Our epilogue "Into the Dusk" completes the arc of Joplin's journey as he returns to reality. Destitute and disfigured by neurosyphilis, Joplin comes face-to-face with the unavoidable truth — that he would likely not live to see his full opera produced. "When I'm dead twenty-five years, people are going to begin to recognize me," he prophesied to his third wife, Lottie Joplin. And yet, as remembered by Lottie, it was Treemonisha, his own creation, who would speak to him while he composed, sharing secrets about the past and future, assuring him that one day, the world would know his name and applaud his great work.Treemonisha was awarded the posthumous Pulitzer Prize for Music in 1976, nearly sixty years after the composer's death.
A Note From The Director
by Rajendra Ramoon Maharaj

The iconic African-American poet and activist, Dr. Maya Angelou, once wrote, "The sun has come. The mist has gone. We see in the distance our long way home. I was always yours to have. You were always mine. We have loved each other in and out…in and out…in and out of time." It is in the indomitable spirit of her powerful words that I am honored to share with you our ground-breaking, soul-stirring revival of Scott Joplin's masterpiece, Treemonisha, re-imagined with a new prologue and epilogue by the visionary, gifted duo of composer Damien Sneed and librettist Karen Chilton.
Treemonisha is rooted in the beauty, strength, and timelessness of Black music, Black love, Black joy, Black community, Black culture, and Black history, past and present! Throughout history, Black artists have often been ignored and overlooked. However, Treemonisha has provided a bold, bright North Star then and now for so many Black composers, lyricists, and creatives to follow. All Black American opera artists are connected to the rich legacy of Scott Joplin'sTreemonisha in big and small ways.
Treemonisha has served as an operatic "hush harbor" for generations, allowing our people to express their full humanity in safety and respect; an artistic and musical ark where our bodies could gather in pursuit of freedom, fantasy, and fellowship. A sacred, magical, Afrocentric, timeless space that has illuminated the power of the human spirit where our dignity as a people is inviolate!
The brilliant vision and incredible talent of Damien Sneed and Karen Chilton have taken this beloved American opera and rooted it through a much-needed new perspective for the twenty-first century, anchored in rich African traditions like Sankofa and Afrofuturism. I am thrilled that this dynamic new interpretation of Treemonisha makes its world premiere at one of our nation's top opera companies, the historic Opera Theatre of Saint Louis, during a time when both the city of St. Louis and our nation are in the midst of a revolutionary artistic and cultural reckoning and awakening.
As a storyteller, I've always seen the empty space of the stage as an opportunity for civilized discourse and social change. In our noisy, often divided world, the theater remains one of the few sacred places where people of different backgrounds, cultures, gender identities, and communities can still sit in the quiet dark together, think a while, and be awakened. It is a gathering place where one can gain a richer connection to the fragility of beauty and pain that exists in all art and life! Our Treemonisha courageously and unapologetically explores the full spectrum of human challenges. It celebrates the power of the human spirit and seeks to create community with joy. The opera illuminates the epicness of Black joy, romantic relationships, loss, grief, faith, tradition, feminism, and the fight to pursue your dreams against unimaginable odds. Treemonisha urges us all to treat our wounds and dreams gently, and to give ourselves and the ones we love grace, mercy, and and gratitude. It is a cogent reminder that true love never dies! And last, but certainly not least, an enthusiastic shout-out to our wonderfully gifted creative team, crew, entire OTSL staff, and the magnificent Treemonisha company!
Join us for Treemonisha May 20 – June 24 during the 2023 Festival Season!
Leadership support for Treemonisha comes from Noémi K. Neidorff and the Whitaker Foundation.  
Made possible in part by the Fred M. Saigh Endowment at Opera Theatre and the Sally S. Levy Family Fund for New Works.  
Major production support comes from Tim & Robin Wentworth. The production received funding from OPERA America's Opera Fund. The commission is supported in part by an award from the National Endowment for the Arts.