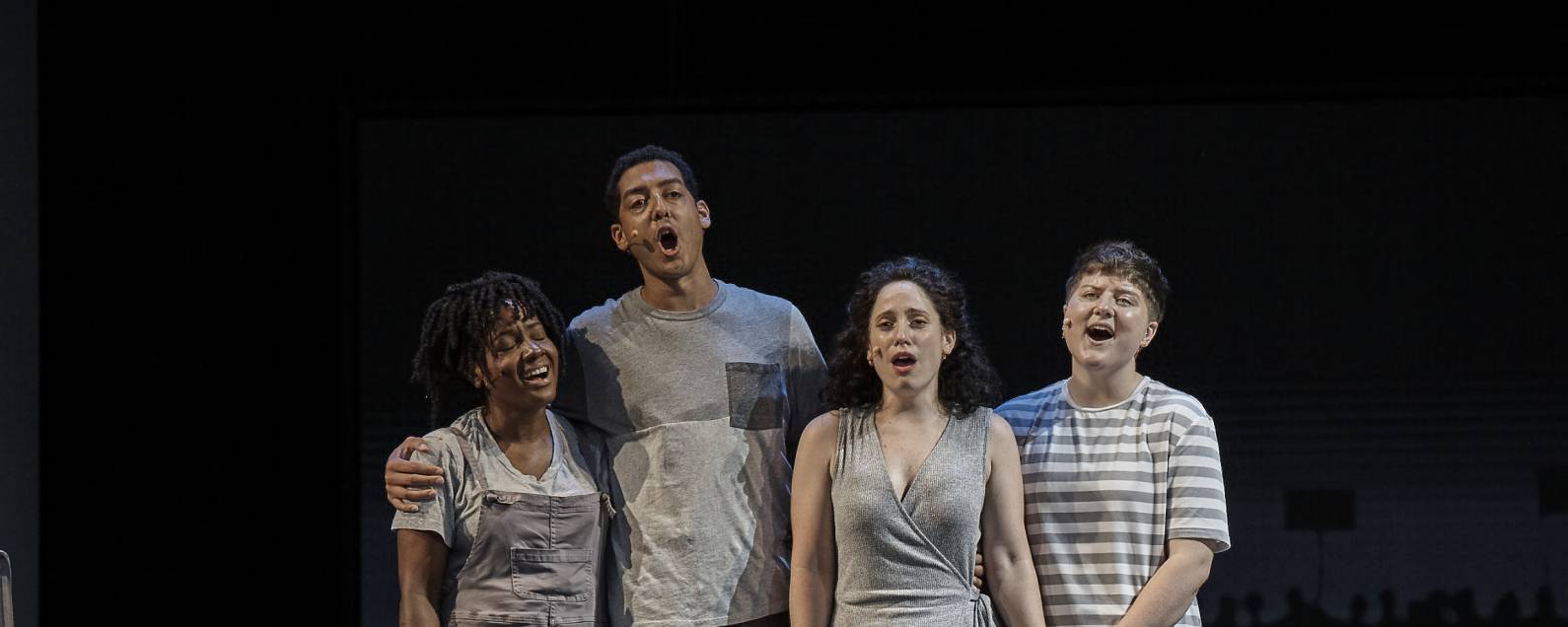 Equity, Diversity, and Inclusion at OTSL
Opera Theatre's role is to share stories of the human experience across time and cultures, by presenting exceptional, powerful, and diverse voices on the opera stage. Whether through dramatic, comedic, or real-life stories, opera's unique combination of music, words, and visual art allows audiences to engage with vivid interpretations of the range of the human condition.  Like other art forms, opera exists to connect our community and to enrich our experience as human beings and as citizens of St. Louis. To do this in a way that makes opera accessible and relevant to our entire community, there must be the inclusion of diverse voices in all aspects of our creation, planning, promotion, and management.
Our Commitment
Advancing the values of equity, diversity, and inclusion (EDI) is not only essential but is also uniquely grounded in our company's mission of shaping the future of opera and nurturing opera's next generation. We cannot fully live up to this mission if we do not create pathways that offer access to more people. In addition, for opera to remain vibrant and sustainable, we must actively recruit and welcome diverse voices, stories, and faces — and in doing so, address long-standing issues around equity, diversity, inclusion. We recognize that progress is a never-ending target and years of work remain ahead as Opera Theatre strives to build a company and community that mirrors the breadth of our region.
Therefore, we at Opera Theatre commit to acknowledging and responding to individual needs (equity), including and embracing the differences that exist (diversity), and creating a space where everyone feels they are valued, safe, and welcome (inclusion) across all aspects of our work and our organization — from on the stage to in the offices, from behind the curtain to inside the board room.
EDI Committee
As a standing committee of the Board of Directors, led by EDI Committee Chair Adrienne Davis, the EDI Committee is comprised of board, staff, and artist representatives. The EDI Committee is charged with:
constantly measuring, assessing, and improving EDI at every level of the organization,
working with the OTSL staff to identify annual goals for advancing EDI and to determine metrics to share progress towards those goals,
providing structures for accountability in order to advance OTSL's mission and embody its values as a diverse, equitable, and inclusive organization.
Across 2021 and 2022, the committee worked with Racial Equity Consultant Dr. Derrell Acon to create a strategic plan for advancing EDI at Opera Theatre. In sessions with Dr. Acon, the EDI committee and the OTSL staff identified nearly 100 potential strategies and tactics to advance EDI, across eight identified areas of focus. This list is not exhaustive and is expected to continue to evolve.

EDI Feedback Form
Your voice matters at Opera Theatre of Saint Louis. We invite and encourage you to share any concerns or suggestions related to equity, diversity, and inclusion at OTSL.

Honoring Indigenous Land
OTSL acknowledges that we exist and gather on the ancestral homelands of the Osage Nation, Missouria, and Illini Confederacy.
Learn about available national and local resources

Resources for LGBTQ+ Advocacy and Support
Opera showcases stories that are heartwarming, humorous, and at times, hard-hitting.  We recognize that many in our community may be all too familiar with the experiences shown on stage. From issues of self-acceptance and depression to discrimination and prejudice, opera can contain many difficult topics. While our world has made strides when it comes to respecting, affirming, and valuing the LGBTQ+ community, there is still more work to be done.  There are many resources for support, networking, outreach, and advocacy for the LGBTQ+ community here in St. Louis and beyond.

Work With Us
Check out our latest openings and opportunities. We'd love to welcome you to our team!