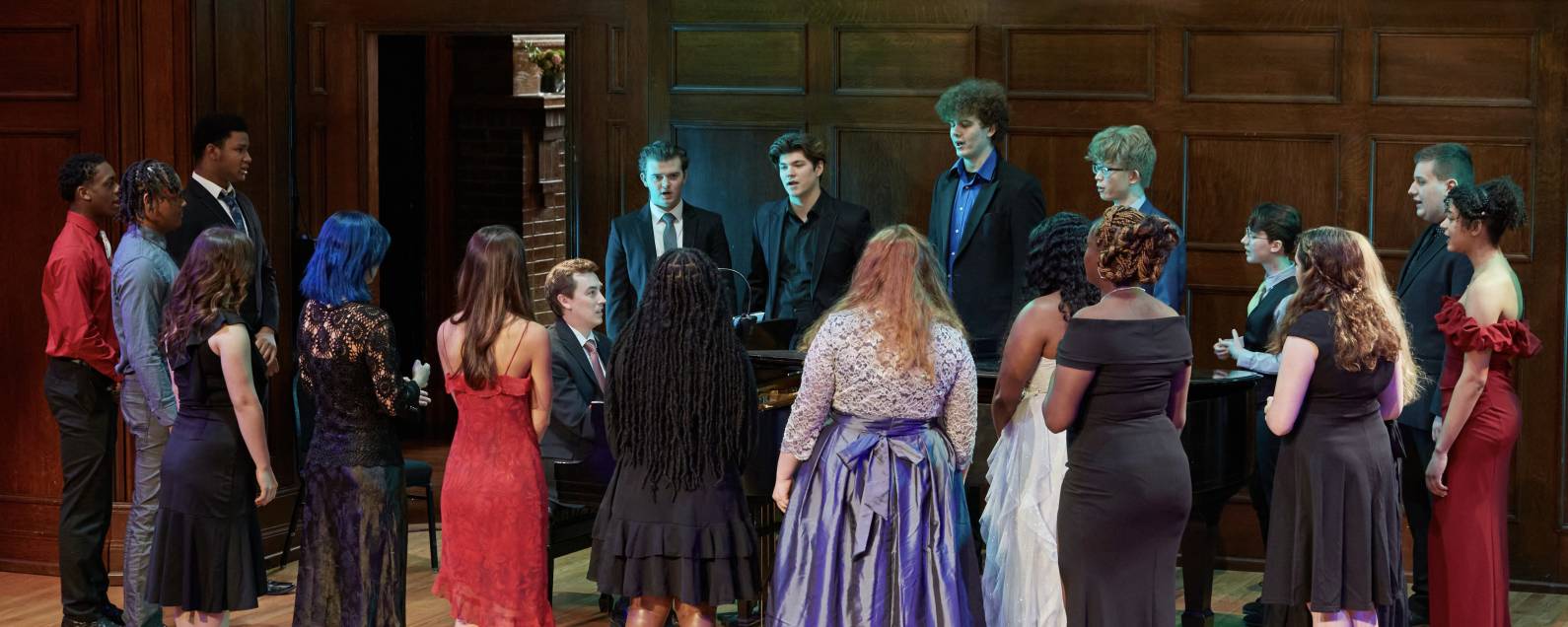 Bayer Fund Artists-in-Training Program
Identifying, coaching, and encouraging young talent
The Bayer Fund Artists-in-Training Program (AIT) is a nationally acclaimed program that identifies, coaches, and encourages promising young high school singers both on and offstage.
AIT doesn't just build great artists through rigorous vocal training — it also sets participants up for success in any field by instilling confidence and lifelong lessons in goal-setting, hard work, and perseverance.
Every year, approximately 20 local students are selected through an open and free audition process. Over the past 30 years, AIT alumni have gone on to careers as professional performers, teachers, lawyers, engineers, public elected officials, founders of opera companies, and more!

Up Next for AIT
2023-2024 AIT Auditions
Thursday, Sept. 21, 3 – 5 p.m
Saturday, Sept. 23, 1 – 4 p.m..
Sally S. Levy Opera Center

2023-2024 marks the 34th year of the Artists-in-Training Program. The program has been generously supported by Bayer Fund (previously Monsanto Fund) since its creation in 1990.
Over 280 students have participated in the AIT program since its inception.
AIT has awarded over $650,000 scholarships to graduates and alumni.
AIT boasts a near perfect high school graduation rate. In the last 10 years, 100% of program graduates have attended college — many of whom are the first in their families.
Graduates of the AIT program have gone on to study at the nation's top music schools, including Boston Conservatory, Cincinnati Conservatory of Music, Eastman School of Music, Indiana University, The Juilliard School of Music, Manhattan School of Music, Oberlin Conservatory, Northwestern's Bienen School of Music, and New England Conservatory, among others.
Many AIT graduates have gone on to work in the music field as professional singers, educators, stage directors, arts administrators, and private instructors.
AIT graduates have performed with major opera companies and symphonies across the United States and Europe, including the Dutch National Opera, English National Opera, Florida Grand Opera, Los Angeles Philharmonic, Lyric Opera of Chicago, the Metropolitan Opera, Paris' Opera Comique, San Francisco Opera, Santa Fe Opera, Seattle Opera, Sydney Symphony, and Washington National Opera.
As of 2023, 12 graduates have appeared in mainstage productions at Opera Theatre of Saint Louis, including Kendall Gladen in the 2012 title role of Carmen, Angel Riley in Highway 1, U.S.A., and Julia Bullock and Chaz'men Williams-Ali in the 2019 world premiere of Terence Blanchard's Fire Shut Up in My Bones.

Special thanks to lead sponsor Bayer Fund.

The Artists-in-Training Program is also generously supported by the Saigh Foundation.