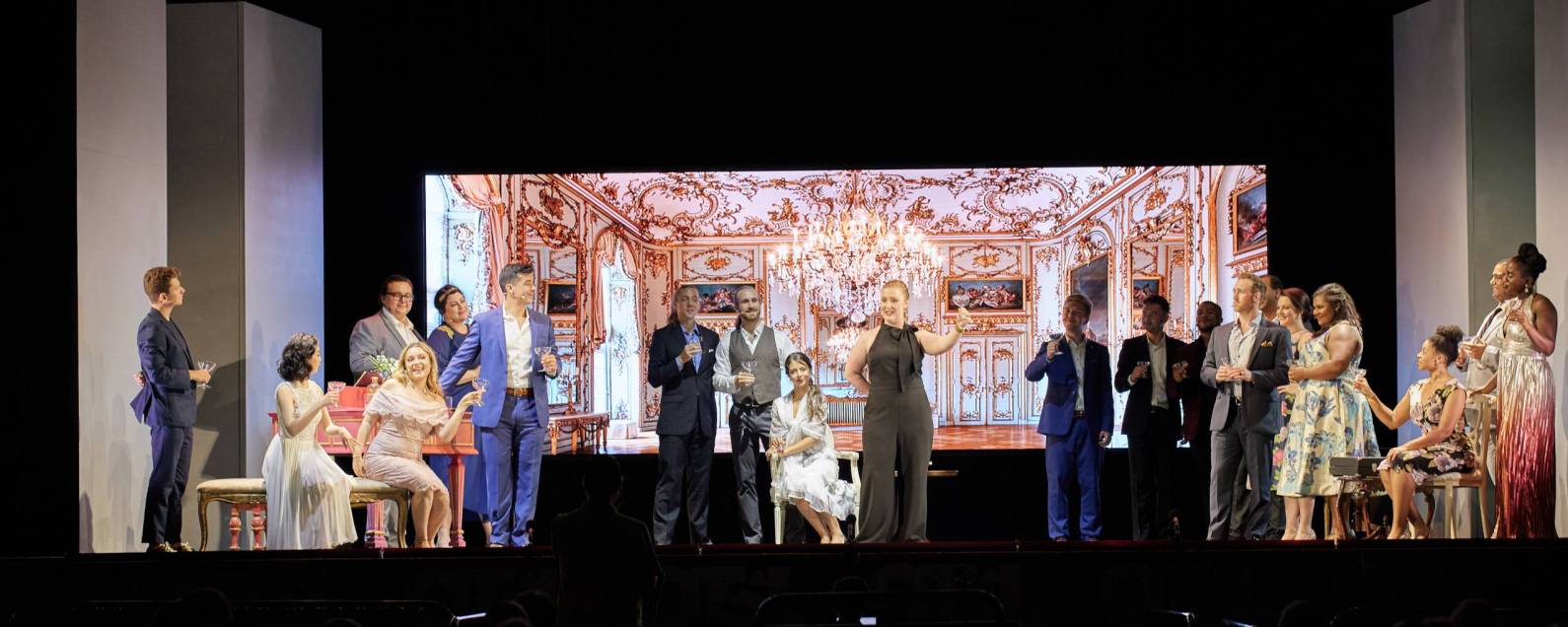 Gerdine Young Artist Program
Opera Theatre is committed to discovering, nurturing, and launching the finest emerging young artists.
Named after Opera Theatre's founding board chairman, Leigh Gerdine, and his wife Alice, the Gerdine Young Artist Program, led by soprano Patricia Racette, Artistic Director of Young Artist Programs, seeks to offer emerging young artists invaluable performance experience as they begin their professional careers. In addition to singing in the mainstage production choruses, Gerdine Young Artists (GYAs) are featured in supporting roles, cover all roles in mainstage productions, and are featured soloists in the annual Center Stage concert. At this showcase event, GYAs take the spotlight accompanied onstage by members of the St. Louis Symphony Orchestra, an event that draws opera administrators, artist managers, and national and international press to St. Louis each season to discover the finest emerging young artists.

Patricia Racette
Artistic Director of Young Artist Programs
Opera Theatre doesn't just discover young artists…we promote them. Each season, OTSL consistently brings back its GYA alumni in featured and leading roles. OTSL counts among its esteemed GYA alumni such singers as Paul Appleby, Jamie Barton, Christine Brewer, Lawrence Brownlee, Christine Goerke, Kate Lindsey, Lester Lynch, Erin Morley, So Young Park, Matthew Polenzani, Morris Robinson, Russell Thomas, and many more.
In 2016, the Richard Gaddes Festival Artist Program was created in honor of OTSL's first general director, and offers GYA alumni the opportunity to return in featured and leading roles on the mainstage. GFA alumni who have returned in mainstage roles include Aubrey Allicock, Joshua Blue, Sydney Mancasola, Elena Villalón, and Mack Wolz, among others.
In addition to mainstage productions, GYAs participate in one-on-one coachings, community engagement performances, industry auditions with artist managers and artistic administrators, and master classes given by distinguished artists in the field. Past master classes have been led by renowned artists such as Stephanie Blythe, Grace Bumbry, William Burden, Michael Christie, Elizabeth Futral, Colin Graham, Denyce Graves, Jerry Hadley, Evelyn Lear, Susanne Mentzer, Sherrill Milnes, James Morris, Patricia Racette, Shirley Verrett, Brian Zeger, and many more.


"Make Our Garden Grow"
Watch a virtual performance by the
2020 Gerdine Young Artists and
the St. Louis Symphony Orchestra
What's included in the expanded Gerdine Young Artist Program?
Previously, the expanded Gerdine Young Artist Program has included elements such as:
Master classes with teaching artists Patricia Racette, Nova Thomas, William Burden, and more.
Workshops with Sean Curren (movement), Kevin Murphy, Howard Watkins (coaching) Alessandra Catani (Italian diction) and Patricia Kristoff-Moy (French diction)
Audition discussions with Liesl Kundert (Associate Manager, Vocal Department, Opus3 Artist) and Gayletha Nichols (Director Designate of Apprentice Program for Singers, Santa Fe Opera).
Repertoire discussions with Matthew Horner (Executive Vice President – Global Head of Vocal, IMG Artist)
Personal branding and public relations with Anh Le (Director of Marketing & PR, OTSL)
Industry days with Alex Fletcher (President, Fletcher Artist Management), Greg Henkel (Managing Director: Artistic, San Francisco Opera), Caroline Woodfield (Senior Vice President Manager, Artist, Opus3 Artists), David Lomeli (Director of Artistic Administration, The Dallas Opera), Christina Scheppelmann (General Director, Seattle Opera), and Nathan Wentworth (Artist Manager, Magnum Opus Artists)
General director's chat with Andrew Jorgensen (Opera Theatre of Saint Louis).

The Gerdine Young Artist Program is supported in part by the Charles MacKay Career Development Fund.
The Richard Gaddes Festival Artist Program and Gaddes Career Awards are supported by the Richard Gaddes Fund for Young Singers and funds established in memory of OTSL founding board members Elihu Hyndman and Barbara & Stanley Richman.
A major gift from The Mabel Dorn Reeder Foundation – Mabel L. Purkerson, M.D., Trustee in 2010 helped endow OTSL's professional development programs and established the Mabel Dorn Reeder Foundation Prize.
John D. and Sally S. Levy Master Classes are funded in part by the John D. & Sally S. Levy Master Class Endowment Fund and presented in memory of John D. Levy, a founding board member of Opera Theatre.