Blog Post: October 19, 2021
Meet Our Team: Education & Engagement Coordinator, Morgan Fisher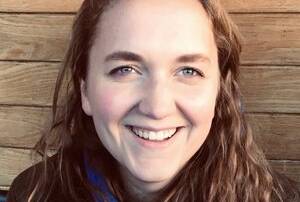 Tell us a bit about yourself!
I'm a theatre techie turned admin!  I've dabbled in lighting, costumes, props, stage management, house management, and production management and have loved it all.  However, I discovered the most joy when working with students in all of these roles.  That joy led me to my current position!
What does your role at OTSL entail?
My current role is to help plan and implement all of the education programs at OTSL.  This includes the incredible Bayer Fund Artists-in-Training program, summer camps, Opera on the GO!, Trailblazers in Opera, and other various in-school programming and community events.  I jumped into this role just before the pandemic, so a huge part of my job has been discovering ways to bring all of our work to the virtual world.
This is not my first position with OTSL!  I spent 6 lovely seasons working on the Wardrobe Crew and 1 season as the Design Assistant in the Costume Shop before joining the administrative staff.
What's been your favorite production at OTSL so far? 
My favorite production to work on was Blitzstein's Regina in 2018.  I was working on the Wardrobe crew at the time and had the opportunity to dress the incomparable Susan Graham, who sang the titular role. James Schuette's costumes were superb, the experience backstage with the entire cast was nothing short of delightful, and the singing was stunning!
When you aren't working, how do you like to spend your time? 
I absolutely love to cook, do puzzles, and go on long walks with my dog and partner!
Please tell us about your dog!
I have a fluffy white Pomeranian named Figaro – less formally, Figgy!  True to his name, Figgy is a leading character through and through.  He loves to howl along to arias – specifically those of sopranos.  However, no aria gets him quite as musical as Largo al factotum from Rossini's The Barber of Seville.
Your partner is an opera singer, correct? What's it like being surrounded by opera at home and at work? 
That is correct!  I grew up surrounded by music – mostly folk and americana.  While the genre may be a bit different now than my childhood, I love the constant of music all the same.
When it comes to cooking, do you have any favorite dishes you like to prepare? 
My current rotation of cookbooks that are inspiring me at the moment are Sababa by Adeena Sussman (Israeli cuisine), Indian-ish by Priya Krishna (Indian-American recipes), and Dessert Person by Claire Saffitz (decadent desserts/baked goods).  Everything I've made from these cookbooks so far have been amazing!  Most recently, the Melted Green Cabbage from Sababa changed my entire view of cabbage…so good!
What are your favorite spots in STL, for food/culture/entertainment/etc? 
La Pizza (University City) & Pizza Head (South Grand) – I love a NY style slice of pizza.
Milo's (The Hill) – Hot Wings, Toasted Ravioli, and Bocce….what more could a person want?
SATE (Slightly Askew Theatre Ensemble) – my favorite theatre company in town!
What's the most fun thing about working at OTSL? 
I have the privilege of watching students of all ages explore their creativity – what is more fun than that?!
Explore the 2023 Festival Season