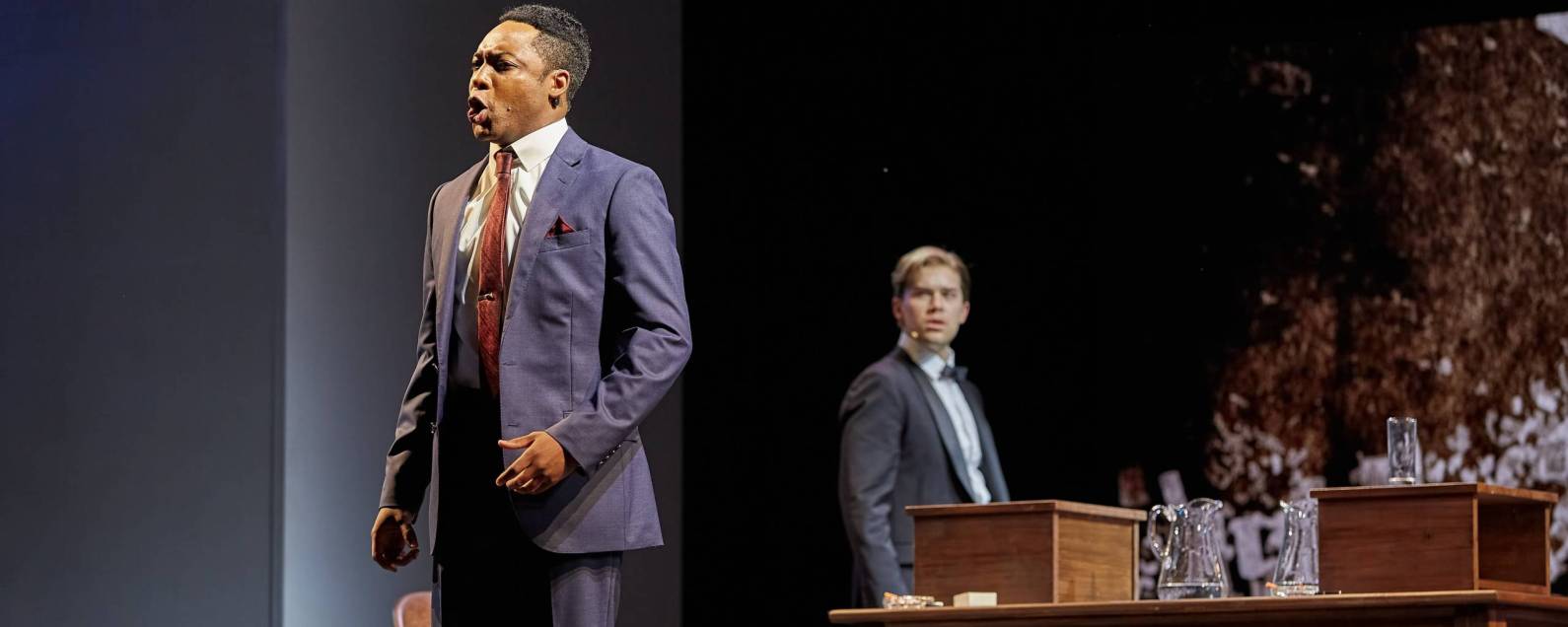 New Works Collective
Collective Members
Opera Theatre's New Works Collective is a disruption of the traditional commissioning model: it gives decision-making power to the community through a collective of St. Louis residents.
Learn more about the members of the New Works Collective:

Paige Alyssa
Songwriter/Producer
Born and raised in St. Louis, Paige Alyssa has worked tirelessly as a performer, producer, and songwriter. The singer-songwriter began participating in youth choir as a five-year-old at Olivette Missionary Baptist Church, and by age nine, she was accompanying on drums alongside her mother, Bernice Hegwood, who played piano and organ.
By 2015 the budding musician obtained a Bachelor of Arts in music with honors, studying jazz voice under the direction of Debby Lennon. Since then, Paige Alyssa has performed, written, and produced over five EPs, one LP, and performed across the Midwest and Southern California. They have also been recognized as one of the top artists in St. Louis by the Riverfront Times and St. Louis Public Radio and is a 2018 Regional Arts Commission grant recipient. 

Darwin Aquino
Conductor/Composer
Dominican conductor and composer Darwin Aquino serves as Music Director for the St. Louis Philharmonic Orchestra and was the Assistant Conductor for Opera Theatre of Saint Louis in the 2022 Festival Season.  As guest conductor and composer, he has appeared with the Interlochen Center for the Arts in Michigan, the Juilliard School in New York, the Caribbean Lyric Festival, the Missouri River Arts Festival, the Orquesta Sinfonica de Heredia in Costa Rica, Chamber Project St. Louis, and the Latin American Music Festival in Venezuela. Darwin has enjoyed regular engagements around the world, including the Philharmonishes Staatsorchester Mainz, Saarländisches Staatsorchester in Germany, National Symphony Orchestra of Costa Rica, Filarmónica Boca del Rio in Mexico, Alfredo Saint Malo Festival Orchestra in Panama, FIU Symphony Orchestra in Miami, and the Orchestra of the Americas (OA), among others.  
As a passionate advocate of social change through classical music, Darwin worked closely for many years with Gustavo Dudamel in Venezuela and previously held posts as Artistic Director of El Sistema, Director of the National Conservatory of Music, and Music Director of the National Youth Symphony Orchestra in his homeland the Dominican Republic.  He holds a Master of Music in orchestral conducting from Florida International University.

Be.Be Brown
Songwriter/Vocalist
Brianna Elise Brown, who performs under the moniker "Be.Be," is a vocalist and pianist whose repertoire spans styles from traditional jazz to neo-soul, R&B, and more. Born in Queens, New York, she relocated to St. Louis in 2002, where she graduated from Central Visual and Performing Arts High School and Webster University. Throughout her college years, Be.Be built her foundation as an artist and performance resume by opening for national R&B artists including the Grammy-nominated Chrisette Michelle and building her own band, Be.Be & the Neosouls.  She completed a residency with the Kranzberg Arts Foundation and was named a top 25 finalist in BET's national AmpliFIND competition in 2021.

Caroline Fan
Activist/Political Consultant
Caroline Fan is a social entrepreneur who has worked in leadership positions in the public, private, and nonprofit sectors. Caroline currently serves as CSO to Lux and Nyx, a luxury handbag line for the modern professional woman. She specializes in public affairs, fundraising, and community outreach. Caroline works with clients to promote their brands and guides them through complex and rapidly changing regulations, policies, and political challenges in the public and private sectors. She has also led a number of successful crowdfunding campaigns and won a few hackathons.
Caroline is a prolific writer and founded an award-winning blog that received accolades from the Library of Congress.  She has also been honored by the National Asian Pacific American Women's Forum as one of 15 APA Women Leaders. She graduated from Williams College and received an M.P.A from Baruch College through the National Urban Fellows program. 

Ron Himes
Founder/Stage Director
Ron Himes is the founder and producing director of the Saint Louis Black Repertory Company, which has developed a national reputation for staging quality productions from an African American perspective. 
Ron founded the company in 1976 while still a student at Washington University, where he graduated with a bachelor's degree in business administration.  He has produced and directed more than 100 plays at The Black Rep, including a production of The Meeting that moved to the Kennedy Center for the Performing Arts.  Ron is also an acclaimed actor, and has appeared with The Black Rep, the Repertory Theatre of Saint Louis, St. Louis' Theatre Project Company and the Muny.  Nationally, he has worked with theaters that range from the Delaware Theatre Company, the Studio Theatre in Washington, D.C., and the Perseverance Theatre in Alaska, among many others.
In 2003, Ron was appointed the first Henry E. Hampton, Jr. Artists-in-Residence at Washington University, a joint appointment of the Performing Arts and African American studies departments.  He has received numerous honors and awards, including the Arts & Education Council's Lifetime Achievement Award, The Better Family Life's Creative Artist Award, the Dr. Martin Luther King, Jr. Life and Legacy Award from the National Pan-Hellenic Alumni Council, and honorary doctorates from Washington University and the University of Missouri-St. Louis.

Lyah Beth LeFlore-Ituen
Producer/Author
Lyah Beth LeFlore-Ituen is a television and film producer, author, and music supervisor.  Her success has been highlighted in national publications and media outlets such as The New York Times, Essence Magazine, Entertainment Weekly, The Steve Harvey Morning Show, and CNN.  LeFlore-Ituen has worked at Nickelodeon, Uptown Records/Entertainment, Wolf Films/Universal, and served as an in-house Producer and VP of TV Development and Production for Alan Haymon Development (AHD).  
As an author, LeFlore-Ituen has eight critically acclaimed books to her credit, two of which are national bestsellers, ranging from fiction to young adult, to non-fiction.  She is currently developing and producing a limited series with Reggie Bythewood and Gina Prince Bythewood entitled Ferguson, based on her book Tell the Truth & Shame the Devil: The Life, Legacy, and Love of My Son Michael Brown (2015) co-authored with Lezley McSpadden, mother of slain Ferguson teen, Michael Brown.   
LeFlore-Ituen is the Co-Founder and Executive Director of the literary arts-based nonprofit, The Shirley Bradley LeFlore Foundation/Creative Arts and Expression Laboratory, which honors LeFlore's late mother, St. Louis Poet Laureate Emeritus, Shirley Bradley Price LeFlore.

Meridith McKinley
Public Art Consultant
Meridith McKinley is a founding partner of Via Partnership, a St. Louis and New York based consulting group that develops comprehensive public art strategies and facilitates public art projects. Working with public agencies, developers, cultural organizations and community groups, Via plans, curates and produces public art throughout the United States and Canada.
With over twenty-five years' experience in strategic planning and community engagement, McKinley has worked in cities such as San José, Vancouver, Calgary, Providence, El Paso, Las Cruces, Nashville, Atlanta and Washington, D.C. to develop public art plans; assisted communities across the country in developing new public art programs; and commissioned art for public and private clients.  
 McKinley is active in numerous civic organizations in St. Louis. She currently serves on the boards of Laumeier Sculpture Park and Critical Mass for the Visual Arts. She is a former member of the boards of St. Louis Artworks, Metropolis St. Louis, and the Coro St. Louis Leadership Center. She has served on allocation committees for the United Way of Greater St. Louis and the Regional Arts Commission in St. Louis.  Meridith is an alumna of the Coro Fellows Program in Public Affairs. She received a Bachelor of Arts with honors from the University of Iowa. 

MK Stallings
Artist/Sociologist
MK Stallings is an artist, sociologist, educator, and leader of an arts organization. His work stems from an unexpected career in the arts and his mission of uplifting artists of color. He believes audience and artist are connected through the exhibition of art, forging community through this phenomenological experience.  MK got his start as an artist by creating hip hop music while in middle school, crafting beats on a Casio keyboard, playing a few keys over and over as though looped over a pre-set drumbeat. 
While he has a passion for art, he explored sociology while in college, earning undergraduate and graduate degrees in the discipline. After he completed his graduate work in sociology, he found his interests broadening to include questions about art, self, and audience. His work as an arts administrator began in 1999, as he coordinated events under the name Urban Artist Alliance. In 2001, a request from a staffer at the Juvenile Detention Center to facilitate youth poetry workshops for detainees pushed MK to incorporate his organization as a nonprofit in the state of Missouri and engage in teaching artist work. Later, he would open Urb Arts Gallery in Old North St. Louis, which houses key visual and performing arts programs of Urbstetiks, Inc.

Jacqueline Thompson
Actor/Director
Jacqueline Thompson is a theater-maker who is passionate about creating art to promote social change. Thompson received a Master of Fine Arts in acting from the University of Louisville as well as a graduate certificate in African American Theatre in 2012. 
As an actor, she has performed with The Black Rep, Shakespeare Festival St. Louis, Mustard Seed, The Repertory Theatre of St. Louis, Metro Theater, New Jewish Theatre, and Upstream Theatre, among others. As a director, she led Shakespeare Festival St. Louis' Shakespeare in the Streets in 2015 and The Telling Project-St. Louis in 2016, which is a national performing arts non-profit that employs theater to deepen our understanding of the military and veterans' experience. In 2015, she was the lead St. Louis producer for a national collaboration with Oregon Shakespeare Festival and The One Minute Play Festival for The Every 28 Hours play festival.    
Jacqueline completed the Regional Arts Commission's Community Arts Training (CAT) Program to help facilitate the intersection between community engagement and the arts.  In 2018, she won the St. Louis Theater Circle Award for outstanding actress in a drama.  She was selected by the Theatre Communications Group (TCG) to participate in the Rising Leaders of Color program and received a Visionary Award recognizing women who have impacted the arts in St. Louis.  

Dr. Philip Woodmore
Choral Director/Composer
St. Louis native Dr. Philip A. Woodmore has been an active member of the local music community for many years. Phil received a bachelor's in business marketing and vocal performance at St. Louis University, a master's in music education from Webster University, and his Ph.D. in music education from the University of Missouri – Columbia.
His research interests are the changing voice, voice pedagogy, and the transformative power of music. Phil has taught voice at Ferguson and Berkley Middle Schools, Crestview Middle School, and the Center of Creative Arts (COCA), and served as director of the Saint Louis Metropolitan Police Department Choir. He is currently the Music Director for Muny Kids for many seasons to come.
Phil composed an original score for Antigone in Ferguson, which has traveled the country for the past five years including a national university tour, Off-Broadway premiere, and international premiere in Athens, Greece. Since the success of Antigone in Ferguson, Phil has written an original score for Dr. Martin Luther King Jr.'s last sermon, called The Drum Major Instinct, and served as the artistic director for the Fall 2021 Requiem of Light, an event that marked the loss of life during the pandemic for St. Louisans.