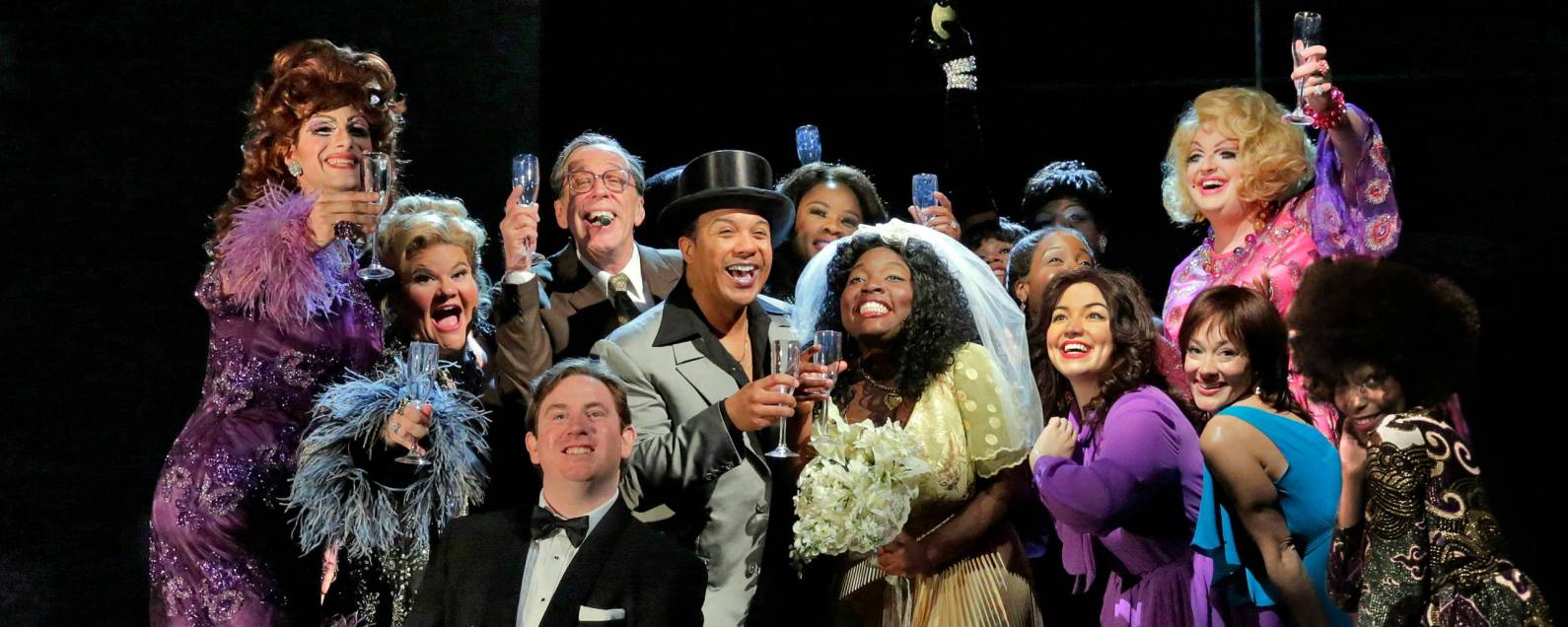 Since 1976, Opera Theatre's mission has been to connect diverse audiences through the power and beauty of opera. We have always believed that by creating bold new works, we can shape the future of opera — and of our community. Each year, we deepen our commitment to produce work of the highest artistic caliber during our annual festival season.
Each season we offer a mix of popular classics, rarely-heard gems, and world or American premieres. Our New Works, Bold Voices cycle introduces audiences to new American operas, written by American composers on American themes. By commissioning new opera, we expand the operatic canon and give new operagoers and connoisseurs alike the opportunity to discover an opera together for the very first time.
Our artists come from around the world, with many of our principal singers, directors, and conductors regularly appearing at the world's major opera houses — from the Metropolitan Opera to La Scala. However, we also nurture opera's brightest future stars through our Young Artist Programs. Each year, more than 1,000 artists apply for these programs — and the selection process is so competitive that fewer than 45 (or 4%) are offered a spot.
After each performance, those artists join our audience in our gardens for a time-honored OTSL tradition, sharing cocktails under the starlight. It's a chance for you to get closer to these singers than you probably could anywhere else.
While we bring international-caliber artists to St. Louis to fill our stages, the highest caliber artists in St. Louis make the costumes, sets, and props that fill our stage each year. In most cases, what you see on stage was built here in St. Louis by over 100 members of our production staff. Once we've produced an opera, those designs often travel the world — to audiences from Vancouver to San Francisco and from San Diego to Wexford, Ireland.
You'll have a great time. The OTSL experience is unlike any other. Come early to enjoy delicious picnics in our gardens or stay late for cocktails with our singers after each performance.

How does picnicking at the opera work?
Picnicking begins 2 hours prior to each performance. Bring your own, order ahead, or enjoy sandwiches, snacks, and full bar which are all available the day of the opera. You can also learn more about each production during a free opera preview held one hour prior to each performance. After the opera, stay for drinks under the starlight alongside the extraordinary singers who made your heart soar minutes before. It's fun, informal, and everyone is welcome.
When do I need to get there?
Evening performances start at 7:30 p.m. and matinee performances start at 12:30 p.m. Even if you aren't able to come and picnic before the show, we recommend arriving at least 30 minutes before the start of the opera in order to park and find your seats before the show begins. While we do offer closed-circuit coverage of the performances via television monitors in the lobby, late arrivals will not be seated until an appropriate break in the music. We do this to ensure that our audiences can enjoy the performances with a minimum of distraction.
Do you have access for patrons with disabilities?
Yes. A limited number of accessible parking spots are available in Lot K (near the east entrance to the Loretto-Hilton Center). See our parking page for location details. Please understand that we cannot legally reserve them for our patrons.
If you or one in your party needs special seating, please let the Box Office know when you order your tickets to make appropriate arrangements. Infrared listening devices are also available for those with hearing impairments. Please see the house manager when you arrive at the theater.
How will I understand the performances?
At Opera Theatre, we are committed to ensuring audiences experience opera the way it was experienced when it was first created hundreds of years ago — in the language of the audience. That's why we perform all of our operas in English. Plus, with projected supertitles, you can always read along.
Is there a way to learn about the opera first?
An hour before each performance, we host free opera previews in the recital hall at the Community Music School, right next door to the Loretto-Hilton Center. Everyone is welcome, and it's a great way to get a "crash course" on the story, characters, and history of the show. If you want to prep in advance of the show, the internet is your best friend! In particular, videos on our YouTube channel and Facebook page can help offer background into each upcoming production.
Subscribe to our YouTube channel
Opera Previews are generously underwritten by Mary Susman & Tom Herm.
So what do I wear?
Leave your ermines and furs at home! (After all, it is May and June in St. Louis.) While part of the fun of coming to the opera can be dressing up, there is no formal dress code at OTSL. We often tell people to dress as they would for a summer wedding. You'll see cocktail dresses, jeans, khakis and polo shirts, and coats and ties. Wear what you'd like — be comfortable!
When do I applaud?
Applause etiquette for opera varies widely and has changed across the centuries. There's no hard and fast rule, but when in doubt, follow those around you! If everyone else is applauding and you feel moved to do so as well, go for it. Typically, applause happens after a song (or aria, in opera) or at the end of a performance during bows.
However, applause isn't the only way to celebrate a great performance. Since so much opera started in Italy, there are a few Italian words that are traditionally shouted after a stunning performance or during bows. Think of it as elegant cheerleading.
Bravo (BRAH voh) for a male singer
Brava (BRAH vah) for a female singer
Bravi (BRAH vee) for a group of singers.

Where did opera come from?
We can credit the ancient Greeks for the idea that is central to opera — that is, the use of singing or chanting to tell a story. It wasn't until the late Italian Renaissance (1597) that a group called the Florentine Camerata began producing staged works that we'd recognize as opera. Through great creativity and extensive musical and dramatic exploration, the Camerata mainly produced secular entertainment for the nobility. Yet, what started as pleasure for a very few was quickly adored by the masses.
Within 40 years, the Teatro San Cassiano, the first public opera house, opened in Venice (1637). By the end of the seventeenth century, there were sixteen public opera houses in Venice alone, and from there, opera quickly spread across Europe. Lully is widely credited with inventing the comédie-ballet in France, working closely with Molière to integrate music, theatre, comedy, and ballet into a single performance. In England, Purcell and Handel (of Messiah fame) began writing operas in both Italian and English for the British public, focusing on stories from mythology or history.
Perhaps the greatest influence on opera as we know it today was Wolfgang Amadeus Mozart. A product of the Enlightenment, Mozart revolutionized opera with both his narrative and musical forms and with his choice of subject matter — weaving the stories of common people with the stories of the nobility into a single fabric. Writing in both Italian (Così fan tutte, 1790) and his native language, German (The Magic Flute, 1791), he aspired to ensure that the enjoyment of opera could be within reach of all people — a belief Opera Theatre still holds firmly today.
Opera has continued to evolve since then. Bel canto (literally 'beautiful singing') style opera dominated the early nineteenth century (Rossini's The Barber of Seville, for example). Grand opera flourished later in that century with great compositions by Verdi (Aida) and Wagner (The Ring Cycle). Under the verismo style of later Italian composers, articulated most eloquently by Puccini (Madame Butterfly and La bohème), there was an increased emphasis on the day-to-day lives of everyday people.
Today, the possibilities for combining the power of words and music to tell a story are limitless. With each new creation by contemporary composers like John Adams, Jack Perla, Terence Blanchard, Ricky Ian Gordon, or Tobias Picker, passion, whimsy, and heartbreak are once again awakened through music for a new generation of audiences.

Box Office Info & FAQ

Still have questions?
Browse some of our other frequently asked questions for more insight into a night at Opera Theatre.