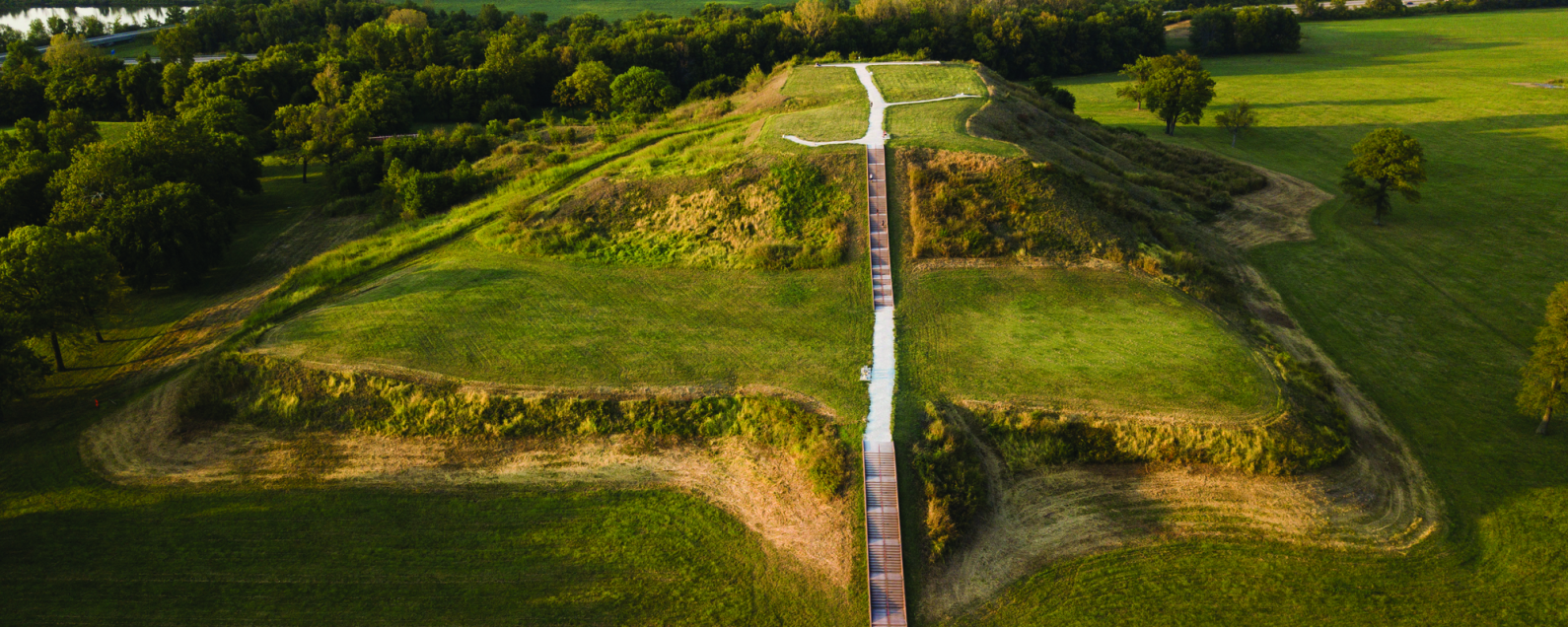 On This Land
Acknowledging the Past, Living in the Present
Pictured: The largest earthen mound in North America, aerial view of Monk's Mond in Cahokia, IL.
Photo © Matt Gush
Opera Theatre of Saint Louis would like to acknowledge that we exist and gather on the ancestral homelands of the Osage Nation, Missouria, and Illini Confederacy, who were removed unjustly, and that we in this community are the beneficiaries of that removal. We pay respect to elders both past and present, and we honor them as we live, work, and create art here.
Long before the state of Missouri existed, these lands were cared for and stewarded by countless generations of Indigenous peoples. This state's name is itself a Siouan word, coming from the tribal name "Missouria" meaning "big canoe people."
The rich history of indigenous life in the Missouri region cannot be mentioned without also citing the ancient city of Cahokia, the ruins of which lie less than 20 miles from the Loretto-Hilton Center. Cahokia existed from approximately 600-1400 AD, and at its peak in 1250, may have been even larger than contemporaneous London. To this day, archaeologists and historians consider Cahokia the most sophisticated prehistoric Indigenous civilization north of Mexico. (We highly recommend a trip to the interactive Cahokia Mounds State Historic Site, which offers free admission.)
Similar mounds existed in St. Louis until the 19th century, which led to one of the city's first nicknames: Mound City. However, the prosperity of local Indigenous nations declined over the course of the 17th and 18th centuries as white settlers flowed into the "Gateway to the West." When explorers Lewis and Clark set off to document the Louisiana Purchase in 1804, they were often welcomed and aided on their journey by multitudes of Indigenous groups. By 1808, however, the Osage Nation was forced to relinquish 52.5 million acres of land spanning both Missouri and Arkansas to the U.S. government — all for just $1,200 in cash and $1,500 in goods.
In 1830, the passage of the Indian Removal Act allowed white settlers to claim lands west of the Mississippi River, often without any documentation or legal standing. Most tribal nations were forced to move further west onto government-approved reservations, such as Osage County, Oklahoma (the present-day home of the Osage Nation). The displacement of Indigenous peoples was so prevalent that today, Missouri has no federally recognized tribal nations.
Despite centuries of forcible removal and the loss of those nations, more than 183,400 Indigenous individuals still live in Missouri today. We pay tribute to their strength and vibrancy, and to the legacy of their ancestors.
Special thanks to Washington University's Kathryn M. Buder Center for American Indian Studies for providing academic resources and guidance. To learn more about the history and legacy of Indigenous peoples, as well as ways to get involved in advocacy, please visit the Buder Center online at buder.wustl.edu.