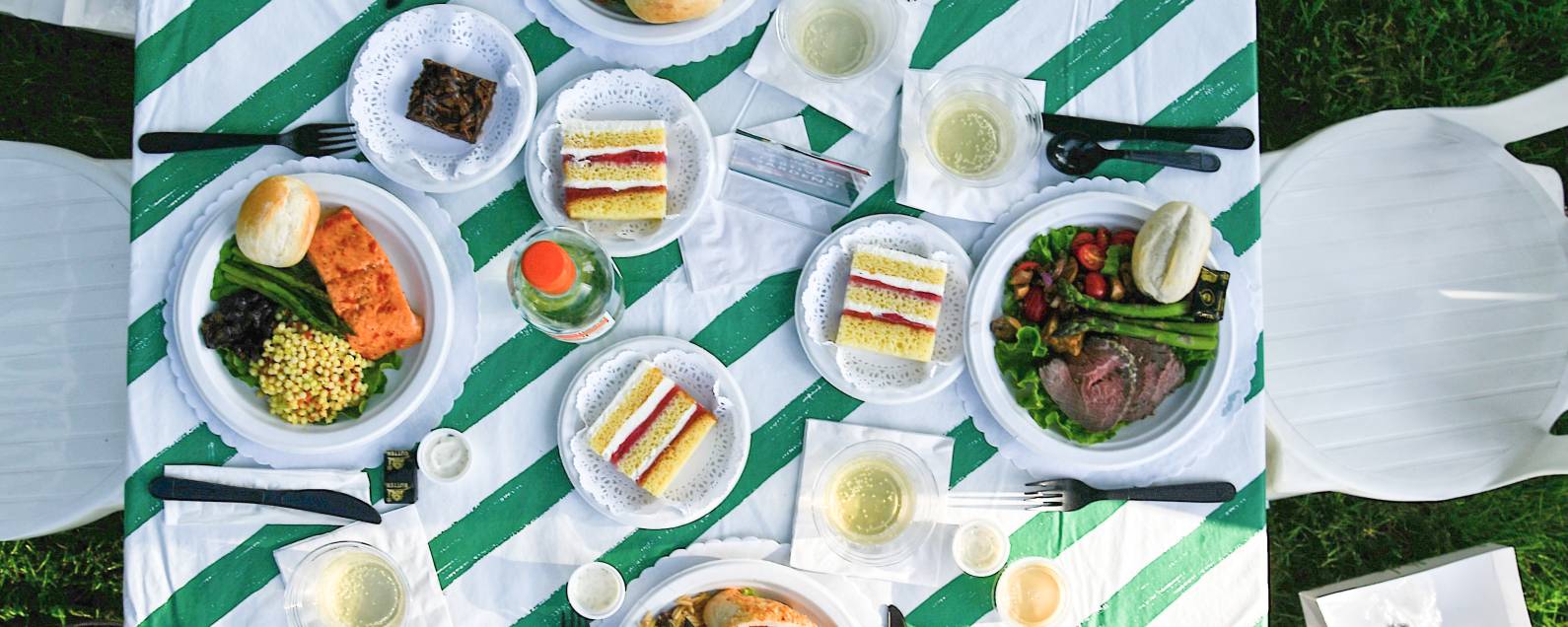 2023 Picnic Menu
Enjoy a delicious boxed dinner in our open-air gardens
Enjoy a delicious meal in Opera Theatre's beautiful gardens before every performance! Leave the cooking to us by pre-ordering a gourmet picnic, prepared by Ces & Judy's Catering, or visit the bar for desserts, soft drinks, and alcoholic beverages.
Picnic orders must be placed no later than 4 p.m. the day before the performance. Orders may be placed below or by calling the Box Office at (314) 961-0644. Pre-ordered picnics are available for pick-up in the lobby of the theater beginning two hours prior to the performance.
View our picnic cancellation policy
We regret that we are unable to accept any day-of picnic orders.
Menus / For Evenings
GF = Gluten-free  |  DF = Dairy-free  |  V = Vegan
Menu A: Beef Tenderloin
Herb-Encrusted Beef Tenderloin with Red Currant Aioli (GF/DF)
Creamy Potato Salad (GF) 
Mediterranean Green Bean Salad (GF) 
Fresh Grapes and Aged Cheddar with Crackers 
Curried Deviled Egg Bite (GF/DF) 
Gooey Butter Cake
$32
Menu B: Dijon Lime-Roasted Salmon
Dijon Lime-Roasted Salmon (GF/DF)
Spring Salad of Heirloom Tomatoes, Carrots, Red Onion, Napa Cabbage, and Beets with Tarragon Vinaigrette (GF/DF)
Fresh Grapes and Brie with Crackers
Smoked Salmon Pâté Bite (GF)
Fresh Asparagus (GF/DF)
Flourless Chocolate Cake (GF)
$28
Menu C: Grilled Chicken Taco Kit
Grilled Sweet-Smoky Rubbed Chicken Thigh Skewer (GF/DF)
Black Bean and Rice Salad with Cumin Vinaigrette (GF/DF)
Salsa Verde Slaw with Pickled Red Onions (GF/DF)
Street Corn Bite (GF)
Soft Flour Tortillas
Tres Leche Cake
$22
Menu D: Cauliflower Shawarma Bowl
Cauliflower Shawarma Bowl with Chickpeas, Basmati Rice, Cucumber, Beets, Red Onion, Tomatoes, and Kalamata Olives with Herb Tahini Sauce (V/GF/DF)
Hummus (V/GF/DF) 
Fresh Grapes and Rice Crackers (V/GF/DF) 
Banana Oat Cookies (V/GF/DF) 
$18
Menu E: Vietnamese Pork Satay
Vietnamese-Style Pork Satay (GF/DF)
Sweet Basil and Cilantro Pesto 
Thai Pasta Salad (GF/DF) 
Spicy Cucumber Salad (GF/DF) 
Curried Deviled Egg Bite (GF/DF) 
Lemon Bar
$20
Menu F: Deluxe Sandwich Box
Deluxe Sandwich Box
Homemade Chicken Salad Croissant 
Fresh-Roasted Turkey Breast with Aged Cheddar and Sweet Mustard Mayo on Ciabatta 
Creamy Potato Salad (GF) 
Mediterranean Green Bean Salad (GF) 
Fresh Grapes and Brie with Crackers 
Curried Deviled Egg Bite 
Fresh Asparagus (GF/DF)  
Brownie and Gooey Butter Bars
$19

Menu K: Dijon Lime-Roasted Salmon
Dijon Lime-Roasted Salmon (GF/DF)
Spring Salad of Heirloom Tomatoes, Carrots, Red Onion, Napa Cabbage, and Beets with Tarragon Vinaigrette (GF/DF) 
Fresh Asparagus (GF/DF) 
Roll and Butter
Jumbo Cookie 
$19
Menu L: Grilled Chicken Taco Kit
Grilled Sweet-Smoky Rubbed Chicken Thigh Skewer (GF/DF) 
Black Bean and Rice Salad with Cumin Vinaigrette (GF/DF) 
Soft Flour Tortillas 
Jumbo Cookie
$17
Menu M: Cauliflower Shawarma Bowl
Cauliflower Shawarma Bowl with Chickpeas, Basmati Rice, Cucumber, Beets, Red Onion, Tomatoes, and Kalamata Olives with Herb Tahini Sauce (V/GF/DF)
Hummus (V/GF/DF) 
Rice Crackers (V/GF/DF) 
Banana Oat Cookies (V/GF/DF)
$17