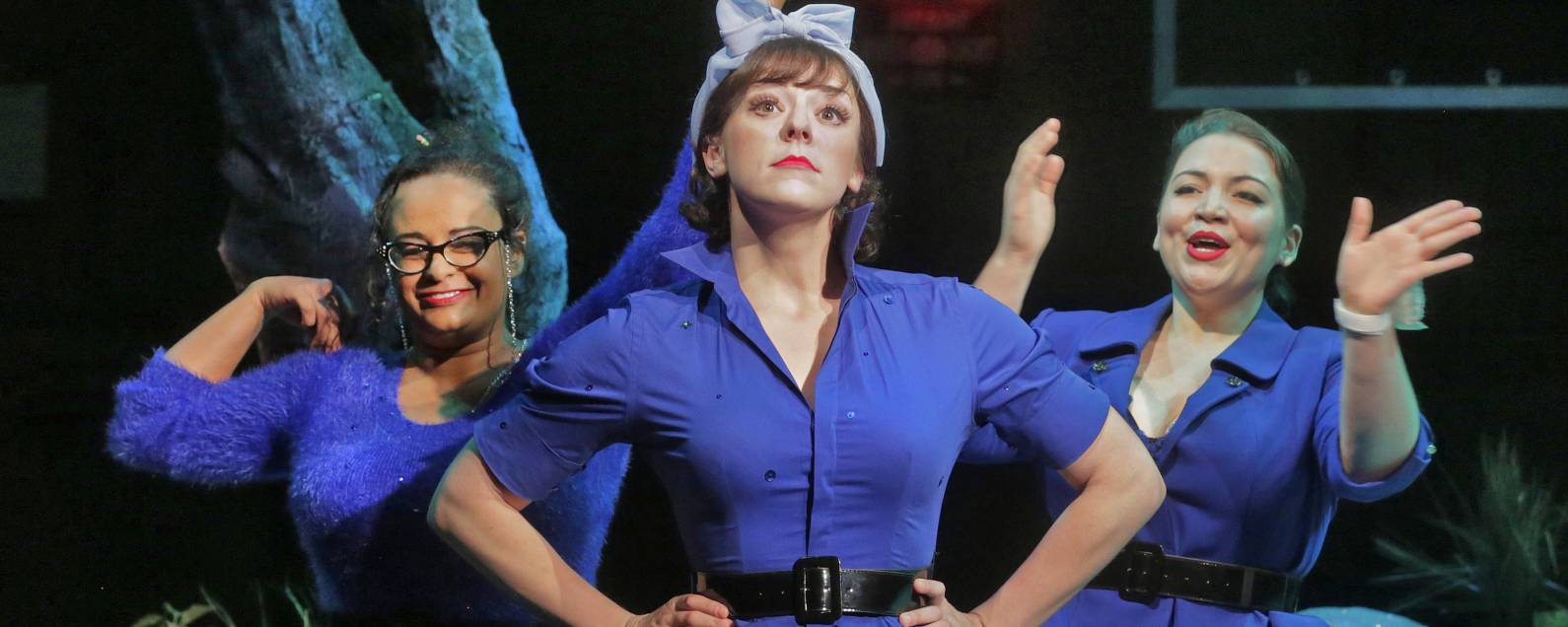 Work With Us
2023 Festival Season Gerdine Young Artist Program
Application deadline for the 2023 Festival Season Gerdine Young Artist Program: Friday, September 9, 2022
Please note: All applicants must have proof of COVID vaccination to participate in live auditions and in the 2023 Festival Season.
Named after Opera Theatre's founding board chairman, Leigh Gerdine, and his wife Alice, the Gerdine Young Artist Program, led by soprano Patricia Racette, Artistic Director of Young Artist Programs, seeks to offer emerging young artists invaluable performance experience as they begin their professional careers.
Opera Theatre is committed to supporting and nurturing the careers of its young artists beyond their young artist seasons by consistently bringing back its GYA alumni in featured and leading roles in future seasons. OTSL counts among its esteemed GYA alumni such singers as Paul Appleby, Jamie Barton, Christine Brewer, Lawrence Brownlee, Christine Goerke, Kate Lindsey, Lester Lynch, Erin Morley, So Young Park, Matthew Polenzani, Morris Robinson, Russell Thomas, and many more. In 2016, the Richard Gaddes Festival Artist Program was created in honor of OTSL's first general director, and offers GYA alumni the opportunity to return in featured and leading roles on the mainstage. GYA alumni who have returned in mainstage roles include Aubrey Allicock, Joshua Blue, Sydney Mancasola, Elena Villalón, and Mack Wolz, among others.
Program Dates
April 24, 2023 – June 25, 2023
Location
St. Louis, MO USA
Season Information
The 2023 Festival Season includes productions of Treemonisha (re-imagined by Damien Sneed and Karen Chilton), Tosca, Così fan tutte, Susannah, Center Stage Concert and Black Music Month Concert. All productions are performed in English. Due to the specific casting requirements of the piece, Opera Theatre of Saint Louis is committed to an all-Black cast for Treemonisha.
Program Information
In addition to singing in the mainstage production choruses, Gerdine Young Artists (GYAs) are featured in supporting roles, cover all roles in mainstage productions, and are featured soloists in the annual Center Stage concert accompanied by members of the St. Louis Symphony Orchestra, an event that draws opera administrators, artist managers, and national and international press to St. Louis each season to discover the finest of emerging young artists.
All leading (ex. Tosca, Ferrando, Blitch), featured, and supporting roles for mainstage productions are covered by young artists. In addition, OTSL intends to cast the following Featured, Supporting, and Chorus Bit roles from its young artist programs:
Soprano: Shepherd Boy (Tosca), Mrs. Hayes, Mrs. Gleaton (Susannah)
Mezzo-Soprano: Mrs. McLean, Mrs. Ott (Susannah)
Tenor: Andy (Treemonisha), Spoletta (Tosca), Elder Gleaton, Elder Hayes (Susannah)
Baritone / Bass: Zodzetrick, Simon, Pastor Alltalk, Luddud, Cephus (Treemonisha), Sacristan, Sciarrone, Jailor (Tosca), Elder Ott, Elder McLean (Susannah)
In addition to mainstage productions, GYAs participate in one-on-one coachings, community engagement performances, industry auditions with artist managers and artistic administrators, and master classes given by distinguished artists in the field. Past master classes have been led by renowned artists such as Stephanie Blythe,  William Burden, Michael Christie, Elizabeth Futral, Colin Graham, Denyce Graves, Jerry Hadley, Evelyn Lear, Susanne Mentzer, Sherrill Milnes, James Morris, Patricia Racette, Shirley Verrett, Brian Zeger, and many more.
Compensation
$686.07-$771.80 a week
$225.00 one-time Center Stage Concert fee
$350.92 one-time sustenance stipend
Round-trip economy travel
Housing provided
AGMA contract
Audition Information
Audition Locations and Dates
| | |
| --- | --- |
| Los Angeles, CA USA: | Thu 10th Nov 2022 |
| Houston, TX USA: | Fri 11th Nov 2022 |
| Cincinnati, OH USA: | Sat 12th Nov 2022 |
| Atlanta, GA USA: | Sun 13th Nov 2022 |
| New York, NY USA: | Mon 14th Nov 2022 – Thu 17th Nov 2022 |
| Miami, FL USA: | Fri 18th Nov 2022 |
| Saint Louis, MO USA: | Sat 19th Nov 2022 |
Audition Requirements
If granted an in-person audition, please prepare four (4) selections showing a variety of styles in at least three (3) different languages, one (1) of which must be in English (translations are acceptable). Three (3) selections should be opera arias and the fourth can be another aria or musical theater. You may amend your choices prior to your audition. If you do choose to change your audition repertoire list, please bring a printed copy of your amended list with you at the time of your audition.
Pianist Provided
If granted an in-person audition, a pianist will be provided by OTSL at no additional expense to you. You may elect to bring your own pianist, however, it will be at your personal expense.
Contact Information
Opera Theatre of Saint Louis
210 Hazel Avenue
St. Louis, MO 63119
audition@opera-stl.org
All applicants will be notified by email of their application status by October 3, 2022.
How To Apply
Deadline
Received By Friday, Sep 09, 2022.
Materials Required
All materials must be submitted via the online YAP Tracker application:
• Complete application form
• One page résumé (pdf)
• One high-resolution headshot (png or jpg)
• One video file of a recording made within 12 months of application deadline. (Please record what you sing best!)
• Two professional references with contact information (No written recommendations will be accepted.)
Video Recordings:
Pre-screening video files may be recorded with a live or backing track accompaniment of piano or orchestra. Please do not submit a capella recordings. Selection should be recorded from memory. While we encourage applicants to submit a video of operatic repertoire, we will also accept a video recording of a recent performance, recital, or concert as long as the artist can be seen clearly. Video should show as much of the artist (full body) as possible so we can clearly see your acting choices.
For tips on creating videos, Opera America has put together Remote Audition Guidelines to help you with the process. Click https://www.operaamerica.org/media/br5jsqfz/remoteauditionsoa.pdf for more information.
Please note:
There is no application fee.
The YAP Tracker application form is not compatible with the web browser Firefox.
An automated e-mail response will confirm receipt of your materials once submitted.
Incomplete and/or late applications will not be accepted or considered.
Due to limitations of space and time limitations, we will not be able to accommodate everyone.
Applicants will be notified if granted an audition no later than October 3, 2022. Please check your junk/spam mail if you have not received notification by this date.
Participation in the GYA program is limited to United States citizens or individuals who have valid documentation to work legally in this country.All applicants must be available to work in St. Louis on April 24 through June 25, 2023. 
For more information or questions regarding the 2023 Gerdine Young Artists Program auditions, email audition@opera-stl.org.
At Opera Theatre of Saint Louis, we value diversity and are committed to creating an inclusive environment for all employees. We are committed to being an equal employment/engagement opportunity workplace, and will not discriminate against employees or applicants on the basis of race, color, religion, creed, age, sex, sexual orientation, gender identity or expression, national origin, physical or mental disability, genetic information or characteristics, protected veteran status, or any other protected class under federal, state, or local law.
Please let us know if you require reasonable accommodation in completing this application, auditioning, or otherwise participating in the employee selection process.