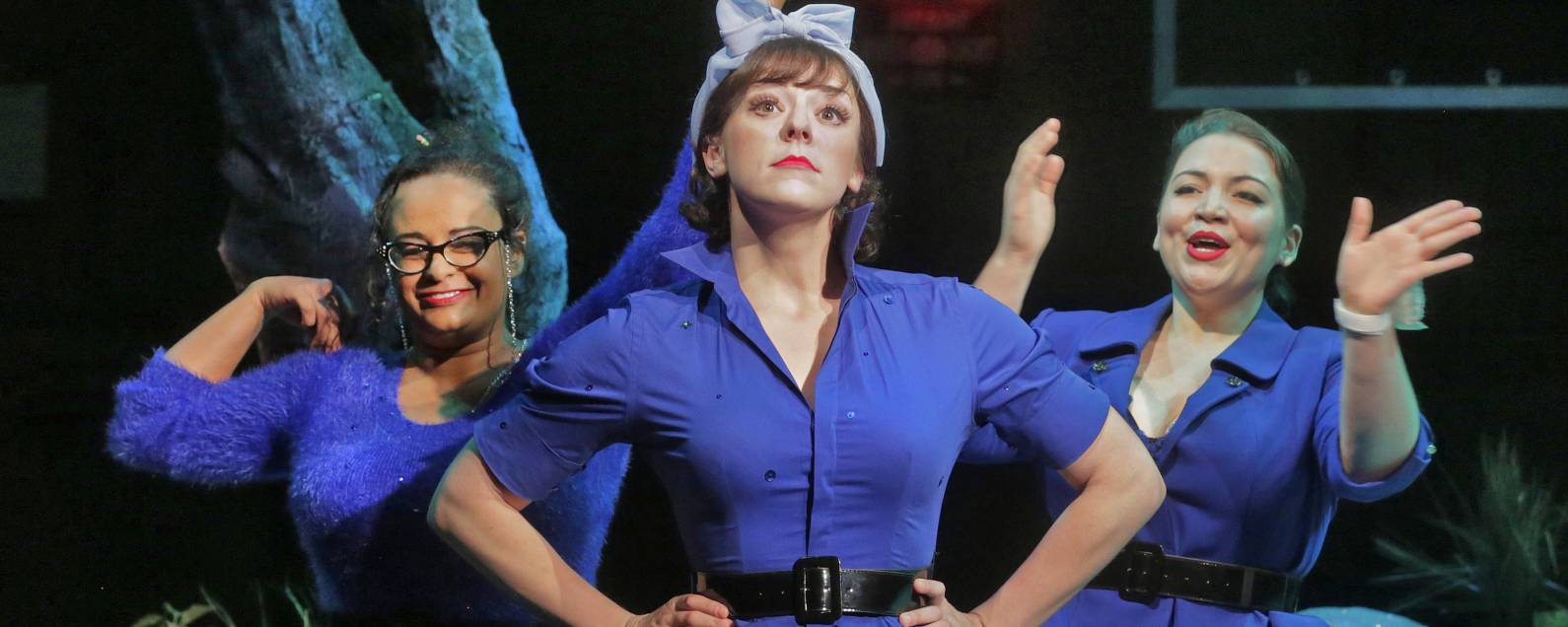 Work With Us
2023 Festival Season Chorus Master
The Chorus Master is a key member of the Opera Theatre of Saint Louis (OTSL) music staff in the 2023 Festival Season. Under the musical supervision of OTSL's Principal Conductor, the Chorus Master will demonstrate a deep knowledge of all aspects of managing and maintaining the opera chorus to meet the highest level of choral standards in each step of the production process. As a collaborator, the Chorus Master will be an individual who can easily transition from the needs of the artists to the administrative functions of the role, providing leadership and support as required. The Chorus Master will be as comfortable with backstage processes as they are with leading from the front.
The Chorus Master will work alongside professional Stage Directors, Stage Managers, and Conductors by directly supporting all choral musical aspects of the production throughout the rehearsal and performance process. This position will be responsible for the Chorus Master duties in every production within the Festival Season that contains a chorus of young artists or choristers.
OTSL's Chorus Master is a seasonal, full-time position. Frequent night and weekend hours will be required.
Duties and Responsibilities
Chorus Master responsibilities include, but are not limited to:
Conducting all chorus music rehearsals of the choral artists engaged by Opera Theatre of Saint Louis under the supervisions of the conducting staff and Principal Conductor.
Providing advanced chorus rehearsal planning for the 2023 Festival Season period and informing season scheduler of chorus scheduling needs as required.
The overall musical preparation of the chorus for all mainstage Festival Season productions.
Continuous evaluation and maintenance of the chorus performance to ensure high choral standards.
Attending all musical rehearsals, staging rehearsals, technical rehearsals, dress rehearsals, brush up rehearsals, concept presentations, and performances which require the chorus' presence and/or participation.
Assisting with choral musical matters during technical rehearsals, dress rehearsals, and performances.
Providing musical warmup for the chorus prior to all dress rehearsals and performances.
Conducting the chorus offstage, as applicable.
Skills, Experience, Qualifications
Bachelor's degree in music, opera, or related field (Master's Degree in music or opera preferred).
Experience working in a professional opera company or organizational role in a performing arts organization preferred.
Strong knowledge of opera repertoire.
Choral and/or symphonic conducting skills and experience.
Strong piano keyboard skills preferred.
Strong communication and interpersonal skills.
Ability to perform under pressure and maintain professional demeanor.
Ability to work nights and weekends.
About Opera Theatre of Saint Louis
Opera Theatre of Saint Louis (OTSL) is a nationally recognized nonprofit organization known for innovative productions featuring outstanding young artists.  The company offers a festival opera season each spring which attracts ticket buyers from zip codes throughout the metropolitan area, as well as visitors from nearly 50 states and multiple countries. As of 2022, Opera Theatre of Saint Louis has presented 33 world premieres and 28 American premieres, which may be the highest percentage of new work in the repertory of any American company. In addition to the spring Festival Season, Opera Theatre operates year-round education and community programs serving nearly 17,000 local children and adults.
Opera Theatre of Saint Louis has a year-round artistic and administrative staff of approximately 40, which grows to nearly 500 during the Festival Season. Several hundred volunteer members of the Opera Theatre Guild provide support for all aspects of Opera Theatre's work and advocate for the company throughout the greater St. Louis community. The company's annual budget size is approximately $12 million; contributed revenue represents more than 50% of budget.
Compensation
This is a seasonal, full-time position.
Dates of Engagement: approximately April 24, 2023 – June 25, 2023
Compensation Rage: $1,250 – $1,800 / week
Travel and Housing provided.
Note: OTSL's Festival Season is a 6-day work week.
To Apply
Applicants for the position are asked to submit a resume along with a cover letter that describes their interest in the position and outlines their relevant experience and qualifications.
Please email application information to:
Yvette Loynaz, Director of Artistic Administration
E-mail: yloynaz@opera-stl.org
(no calls, please)
At Opera Theatre of Saint Louis, we value diversity and are committed to creating an inclusive environment for all employees. We are committed to being an equal employment/engagement opportunity workplace, and will not discriminate against employees or applicants on the basis of race, color, religion, creed, age, sex, sexual orientation, gender identity or expression, national origin, physical or mental disability, genetic information or characteristics, protected veteran status, or any other protected class under federal, state, or local law.
Please let us know if you require reasonable accommodation in completing this application, interviewing, or otherwise participating in the employee selection process.